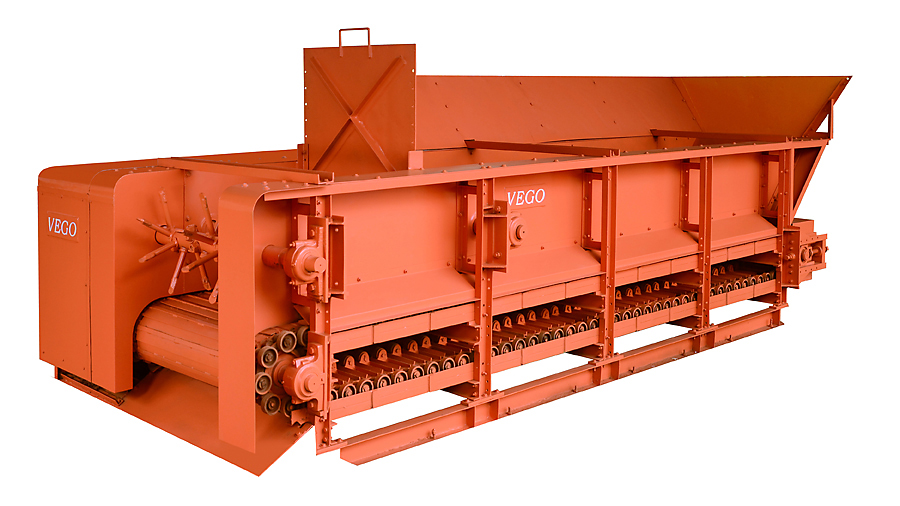 VEGO Box Feeders are specially designed for high storage and constant feeding of clay.
Defining Characteristics:
Two shafts directly driven by electric motors through gearboxes. Since no pulleys or chain sprockets are used in power transmission, maintenance requirements are low.
Controllable uniform speed of clay supply due to infinitely controllable VFD driven motors.
Heavy duty Steel slats with links and bolts also made with steel ensure large carrying capacity and extended working life.
Rigid construction.
Machine supplied with motors and VFD for slat drive.
| | | | |
| --- | --- | --- | --- |
| Model | BF30 | BF40 | BF50 |
| Weight(Kg) | 2180 | 3030 | 4635 |
| Over All Dimension (LxWxH) mm | 5030 X 2130 X 1850 | 5200 X 2380 X 2200 | 6330 X 2630 X 1810 |
| Working Dimension (LxWxH) mm | 4500 X 780 X 700 | 4500 X 750 X 1220 | 5820 X 1010 X 800 |
| Clay Chipper Power | 2.2kW | 2.2kW | 2.2kW |
| Slat Drive Power | 1.1kW | 1.5kW | 1.5 kW |