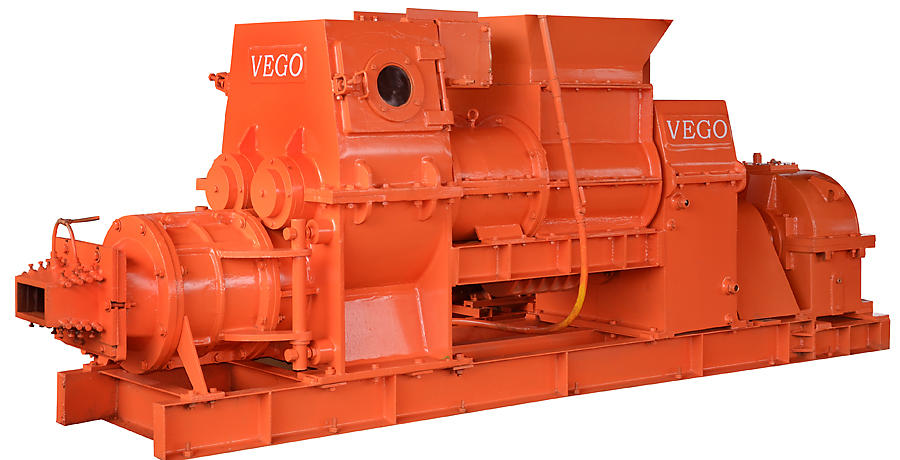 As the heart of the clay shaping line, VEGO De-airing extruders are designed to be a long lasting investment for the customer.  First priority in the design is for generous dimensioning. The gears, shafts, bearings, etc. are made for endurance strength. The wear parts are configured to provide maximum lifetime between replacements.
With reduced maintenance cost and power consumption, the extruder produces maximum output with minimal running cost.
Defining Characteristics:
Augers are made with wear resistant metal
Pneumatic clutch system with no need for lubrication
Special heat treated and ground gears
Simple and easy maintenance.
| | | | | |
| --- | --- | --- | --- | --- |
| Model | SBE350 Extruder | BE350 EXTRUDER | BE400 EXTRUDER | BE500 EXTRUDER |
| Auger Diameter (mm) | 350 | 350 | 400 | 500 |
| Type | Non- Deairing | Deairing Extruder | Deairing Extruder | Deairing Extruder |
| Clay Mixing trough dimensions | 1140 X 500 | 1790 X 500 | – | 1800 X 600 |
| Approximate Weight (kg) | 4000 | 4960 | 6280 | 10320 |
| Over all dimensions (mm) (LxWxH) | 4625 X 2925 X 1210 | 5770 X 2360 X 1400 | 5060 X 2440 X 1400 | 5950 X 2450 X 2950 |
| Power | 45kW | 75kW | 90kW | 90kW + 45kW |